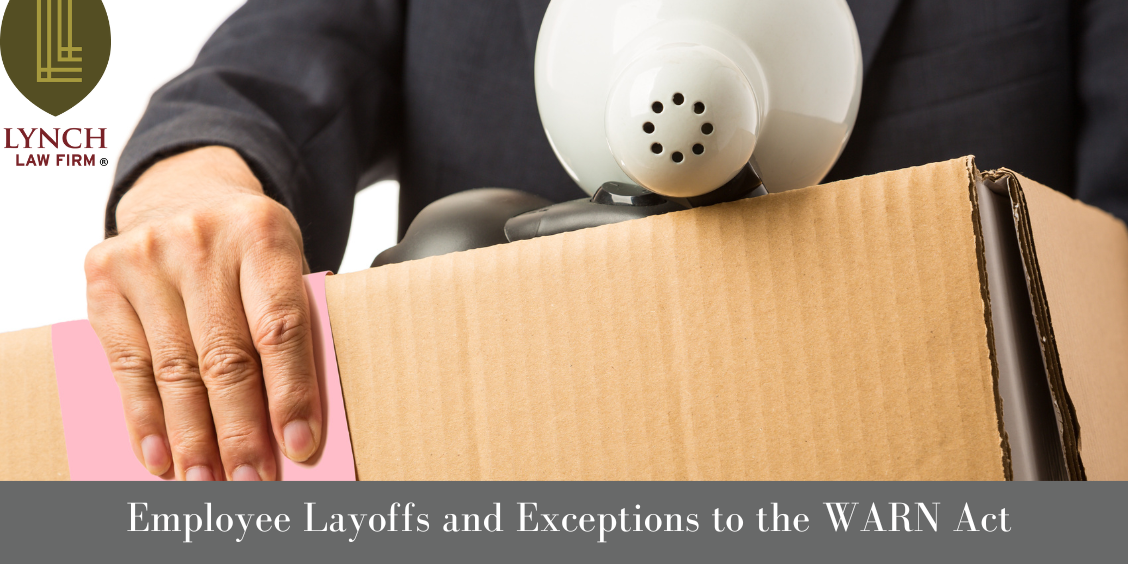 When Companies May Be Excused from Providing WARN Act Notifications to Employees Facing Layoffs
---
The Worker Adjustment and Retraining Notification Act
When large organizations are considering mass staff layoffs, they are generally bound by the terms of the Worker Adjustment and Retraining Notification Act. The WARN Act provides that companies give the population of soon-to-be terminated workers notice of their pending termination. Enacted in 1988, the WARN Act protects workers, their families, and their communities by requiring that most employers with one hundred or more employees provide notification of plant closings and mass layoffs at least 60 days before the event. The WARN Act's notice of an impending job loss gives employees time to secure new employment or obtain the additional training they need to find replacement work. U.S. Department of Labor regulations defines when an employer must give WARN Act notice, whom the employer must notify, how the employer must provide notice, and the information the notice must contain.
Exceptions to the WARN Act
There are exceptions where a company may be excused from this federally mandated 60-day notice requirement. These exceptions include instances where the company is considered to be either a faltering business, a liquidating fiduciary, or when the layoff is the result of a natural disaster:
· Faltering Company: In situations where a company can prove to the court that it shuttered operations because it was either a faltering company or the economic circumstances that caused the layoffs were reasonably unforeseeable, the company may not be required to comply with the advance notice provisions of the WARN Act.
· Liquidating Fiduciary: The exception to the WARN Act regarding a "liquidating fiduciary" provides that a trustee or other estate representative in a bankruptcy case does not fit the description of " employer " as defined by the WARN Act.
· Natural Disasters: Another exception to the WARN Act includes instances in which a natural disaster has occurred, and the business cannot provide targeted workers with a 60-day advance notice. Under Department of Labor regulations, business closings and employee layoffs are not foreseeable when caused by a sudden and unexpected action or condition outside the employer's control.
How Businesses Can Protect Themselves
Employers should always seek to stay current with the WARN Act requirements and follow their jurisdiction's state and federal employment laws. Companies can protect themselves by issuing a WARN notice when they are required to do so. Employers who violate the WARN Act may be liable for paying employees back wages and benefits for the violation period. Employers may be subject to civil penalties of up to $500 for each day of violation. Penalties may be avoided if employers compensate employees 60 days of wages and benefits instead of notice.
If You Have Questions, Schedule a Consultation Now
If you have questions about the WARN Act or other matters regarding labor and employment, schedule a consultation with the Lynch Law Firm now. Our lawyers can help you navigate the complexities of your legal dispute from inception to resolution. If you have legal questions or are involved in a labor or employment dispute, contact us for help now. Please email us or call 512 298 2346