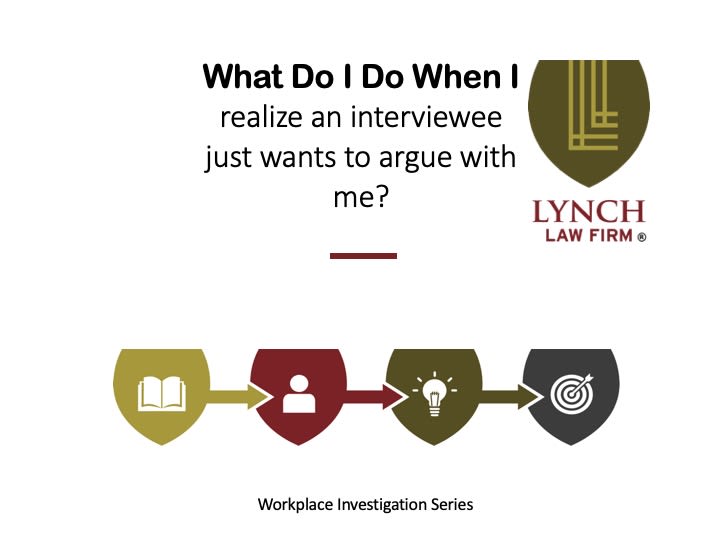 What do I do if someone wants to argue with me during a workplace investigation?
---
What do you do if somebody wants to argue with you during your investigation?
Sometimes a person being argumentative is a component of the allegation you're there to investigate, right? Being incredibly antagonistic could be an element of a bullying allegation or, say a hostile work environment allegation. That being said, you need to do everything you can to keep yourself, your personality, and your triggers out of the investigation. Still, sometimes people will argue with you, which can be additional corroboration in the facts that go toward your investigative outcomes. It can also be super helpful to walk into an interview like that, knowing what you're going to say because often, we know that the person will be argumentative. We know by the time you've gotten hired and done an interview or two, what people's characters are like, and we know who will be argumentative and who will be hesitant to engage with us transparently.
It can be helpful to have a plan, have a plan for taking a deep breath, have the plan to have a quip to redirect. It can be beneficial to say things like, "Oh, you sound like you know a lot about that. We could have a robust conversation about that in a different setting. But if it's all the same to you, we'll be here all day if I don't just collect the facts of the matter I'm looking into. So if we could get back to that, that'd be great." Having a couple of clicks to show someone they are being argumentative and encourage them to get redirected back to your line of questioning can be helpful, as prepping for that before you even walk in the doors.