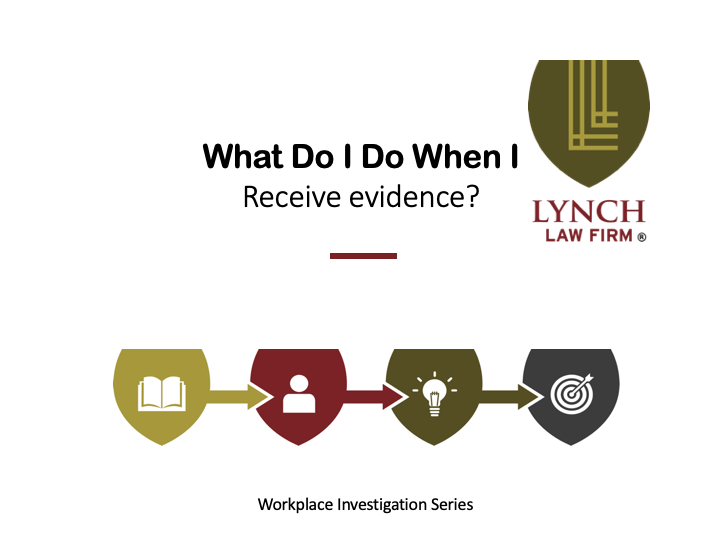 What do I do if I receive evidence during a workplace investigation?
---
What do you do if somebody hands you something, a piece of evidence, during an investigation? It depends on what it is, of course. If they give you a stack of reproducible reports, I'm going to ask if I can have a soft copy of it. "Hey, can you email me the file later, so I don't have to scan this in again? And I'd like to have the original document if it's all the same to you." But if it's something like a key or a smoking bomb, you need to collect it and document it in the condition it was in when you got it.
If your investigation is likely to go to court, you must document its condition when you receive it. But you also need to record a chain of evidence. So, you got it from the person on this day, at this time. It sat in the cabinet that was locked. Only these three people had the key, things like that. Because if and when it goes over to the police, you will have to explain that to them.
And of course, if there is a police incident or any lawsuit coming out of it, people will say, "Oh, well, it got altered after we handed it over." And so, you don't want to be involved. So, take some initiative and document its condition at the time. If you're just a vehicle to getting a set of keys returned to the client or something like that, take a picture of them. "Hey, these are the keys. I turned them over to my contact on Tuesday." Whatever, you're done with it.
But also, I don't keep stuff from my investigations. That is a slippery slope. I could have a cabinet full of stuff if I wanted to. And so, I'm always kind of pushy about, "I'm putting this in a FedEx, billing it to your account, and you're going to get it on Tuesday via this FedEx number." But that's all you can do with it until you get it back over to the hands that it should be, either the police or, more likely, your client.