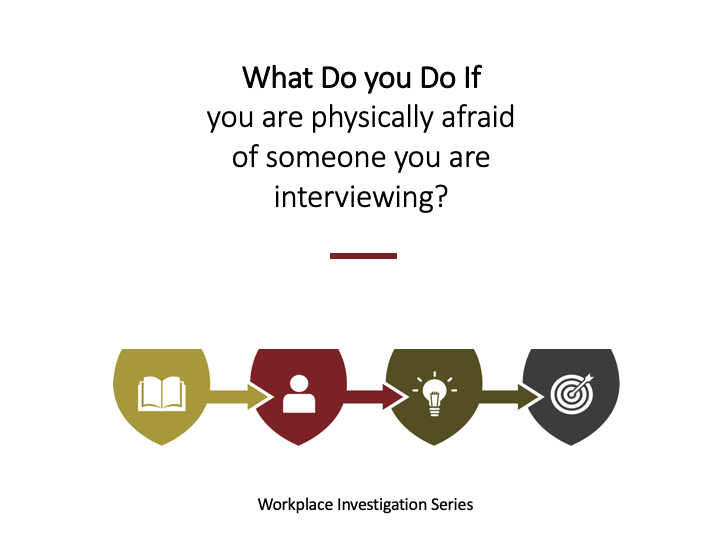 What do I do if I am physically afraid of someone during a workplace investigation?
---
What do you do when you're physically afraid of someone? A lot, I hope, because there are probably reasons that you're so scared of this person, so hopefully, you can have a second investigator in the room. Hopefully, you can get personal protection to attend the meeting. Again, depending on the threat level, that might be somebody like a security guard, that's usually a licensed position in the states. You can think of bouncers, but there are more sophisticated forms of security. Just hire somebody licensed in personal protection who can stand outside the door or in the room as a silent observer.
You'll want to work out something with your protection that the protector does not act unless there is a signal or overt aggression. And you'll probably have to explain to the person, "This personal protection individual standing in the corner is here for personal protection. There have been some threats of physical violence in the workplace. I need to be safe, so we've asked George, the physical protection person, to participate in this investigation."
You also want to make sure that the physical protection person does not come between the person you're interviewing or the door because, again, you're going to have some potential for claims of false imprisonment because it could be this big security guard isn't letting me leave. Unlike other investigations, if you have a credible reason to be afraid for personal protection, you may place yourself between the frightening individual in the door. In contrast, in a normal situation, we want to ensure that everybody has equal access to the door. If there is a threat of physical violence, you may want to be closer to the door than the person causing the concern.