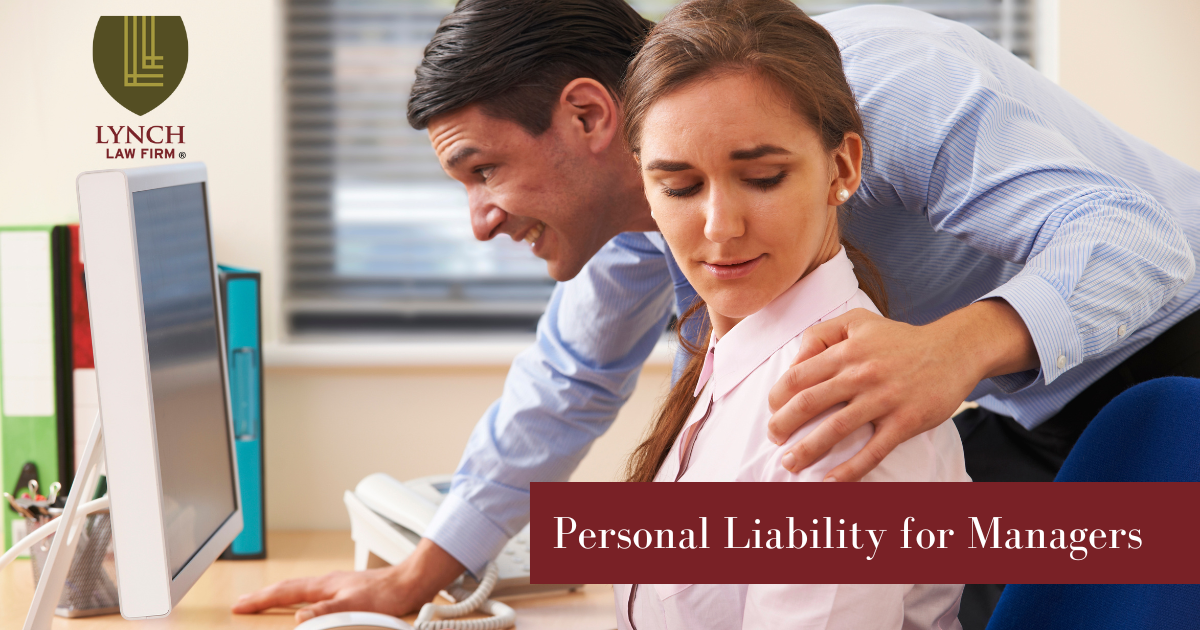 Texas Law Places Personal Liability on Managers in Instances of Sexual Harassment
---
In the summer of 2021, Texas lawmakers passed new legislation regarding sexual harassment. This law, which is currently in effect, accomplished three primary goals:
1. The law expanded the definition of sexual harassment.
The current law defines it as any act that "has the purpose or effect of creating an intimidating, hostile or offensive working environment."
2. The law placed responsibility on individuals.
Those in management positions can be held personally liable for sexual harassment. Under Texas law, a "person that acts directly in the interest of the employer concerning the employee" may be liable for failing to properly address sexual harassment that "reasonably interferes with an employee's work performance."
3. The law increased the standard of an employer's response to complaints.
The law expanded coverage to all business entities regardless of the number of employees. Texas employees have 300 days from the alleged act to file a claim with the Texas Workforce Commission. This time is 120 days longer than the limitation for other discrimination claims.
Sexual Harassment Law in Texas
The 2021 law holds employers to a higher standard. According to the terms of the previous law, an employer could avoid a sexual harassment claim by proving that the business took "prompt remedial action" when responding to a complaint that alleged sexual harassment. The changes in the 2021 law included a requirement that the action must take place upfront. Also, the phrase "immediate and appropriate corrective action" was added and replaced the phrase "prompt remedial action" from the prior law.
Important Steps for Employers
Workplace investigations of sexual harassment complaints are more critical than ever before. Employers must address Texas law regarding sexual harassment by providing proper training and reporting procedures for their management teams and staff members.:
Employees and managers must be able to identify instances of sexual harassment.

Employees and managers must be able to respond to cases of misconduct as soon as they occur.

Written training manuals and online materials should be readily available to all employees regardless of location.

Records documenting the successful completion of employee training should be preserved. Thorough documentation of an investigation is required to defend against sexual harassment claims in Texas.

Companies should inform those in management of their personal liability in sexual harassment claims.

Employers should provide proper training for all employees.

Employers should implement the policies and procedures necessary to conduct effective investigations.

Employers should also consider contacting counsel specializing in workplace issues to assist with a thorough investigation.
Sexual Harassment is Illegal
Sexual harassment is illegal, and in recent years our workplaces have experienced significant improvements due to legislation and workplace training. Harassment laws in Texas demand that employers institute a workplace culture with zero tolerance for this toxic behavior. Employers in this state and nationwide should implement effective procedures, policies, and training to avoid liability and protect themselves, the company, and their employees.
When You Need a Workplace Investigation
All businesses must protect employees from sexual harassment, whether the alleged perpetrator is another employee or a contractor. Following a complaint, management must take steps to prevent further sexual harassment of the complainant. If you are dealing with a workplace issue that requires a thorough investigation, the Lynch Law Firm can help.
When critical issues occur within the work environment, The Lynch Law Firm will collaborate with you to address the situation and gather all the relevant facts. In addition to identifying the problems that exist within the workplace, an investigation conducted by an accredited professional at the Lynch Law Firm can also help you avoid costly litigation. Achieving a professional investigation can also be an essential management tool for preventing a reoccurrence of a similar matter. The Lynch Law Firm will collaborate with you and your management team to provide a thorough workplace investigation.
About Attorney and Workplace Investigator Natalie Lynch
Natalie Lynch is the managing attorney of the Lynch Law Firm and a credentialed investigator and dispute resolution mediator with many years of experience working with healthcare organizations to help minimize employment risk factors. She is the only consulting and credentialed investigator in Central Texas who conducts third-party investigations into allegations of harassment, discrimination, hostile work environment, and other issues.
Call the Lynch Law Firm Now for a Free Consultation
Call Natalie Lynch at the Lynch Law Firm to schedule a free consultation. Together you can discuss problems that currently exist in the workplace and how to avoid issues before they happen. You can contact Natalie Lynch by calling 512 298-2346 or emailing.