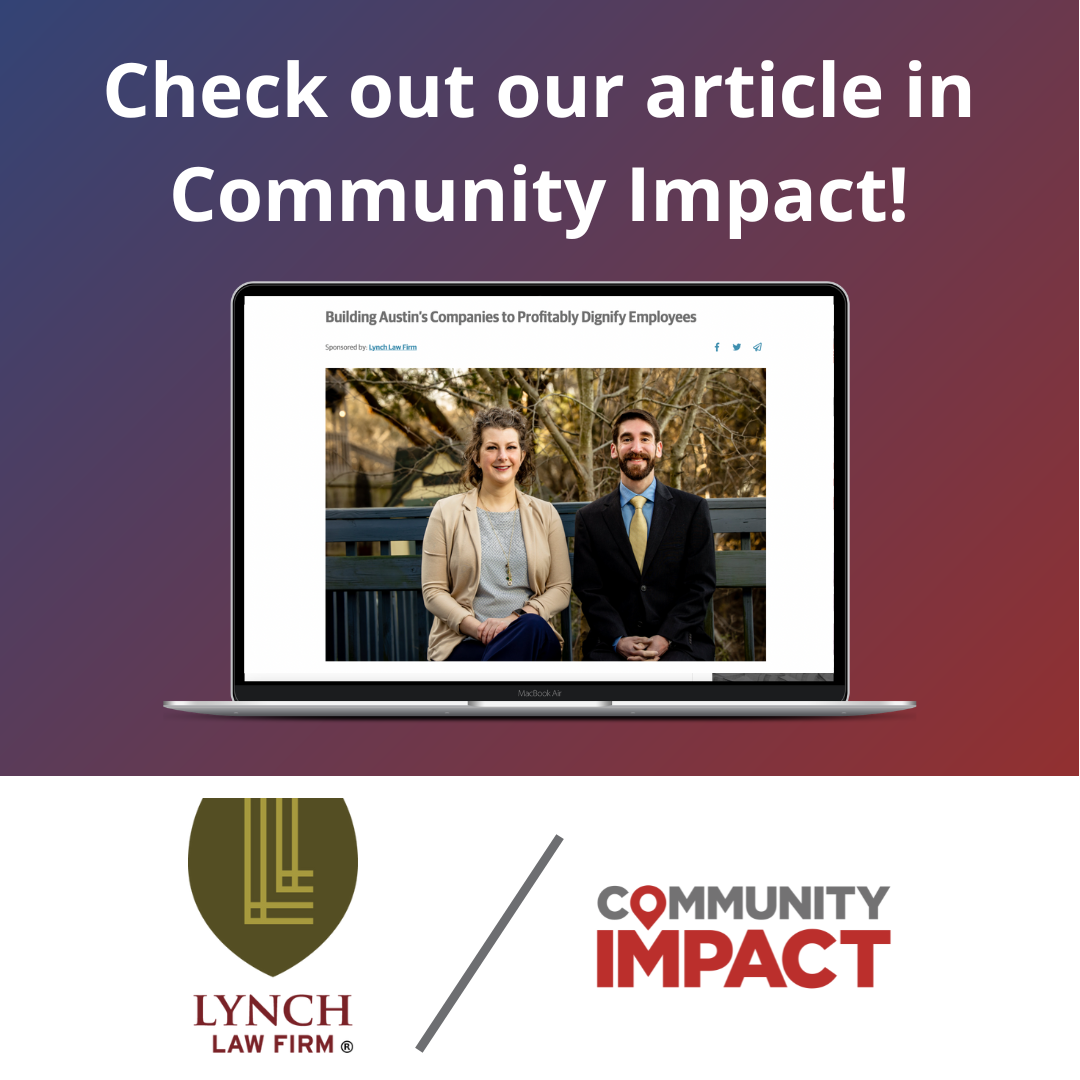 Lynch Law Firm Featured in Community Impact Paper
---
Natalie Lynch is Seeking to Resolve Employment Issues in the Business Community
An Interview by The Community Impact Newspaper
Natalie Lynch is one of Austin's foremost labor and employment attorneys and the founding member of the Lynch Law Firm. She established the firm over ten years ago but has decades of experience within the profession of law. In addition to serving her clients resolve legal matters pertaining to employment law, Lynch and her team specialize in workplace investigations and work to promote human dignity in the work environment.
"When I opened the firm, I conducted all the workplace investigations," Lynch said. "Now, we have an entire team to oversee our labor and employment clients." The Lynch Law Firm now includes an associate attorney, Brian Levy, and two employment professionals, Dr. Lindsey Lee and Helen Petty. Dr. Lee works on adult learning, investigations, and culture projects, and Petty works with nonprofit organizations.
A significant portion of the Lynch Law Firm's focus is prevention and education. Lynch said she likes having the opportunity to educate employers because she can set high expectations and show her clients why the legal requirements to spend money to ensure a healthy workplace are worth the cost. Lynch said, "Employers have a legal obligation to investigate workplace discrimination and harassment issues. Many organizations hire professional and credentialed investigators to help resolve these matters, establish a foundation for healthier workplaces, and avoid costly litigation." In addition to investigative work and helping clients work through conflicts in the workplace, the firm also provides services that include the creation of partner and employee agreements and building or reviewing company policies and procedures,
In 2023, the Lynch Law Firm expanded its services by offering a new training platform for employers. Consistent with EEOC guidelines, federal and state laws, and judicial expectations, this new customized training course was created to stop harassment and discrimination in the workplace. The firm's interactive systems are designed to protect companies while helping nurture a workplace culture where employees feel safe and respected. While the platform also includes ongoing micro-learnings to reinforce the education, what makes this training unique in the marketplace is that it is affordable, customized, and judicially acceptable.
About 80 % of the Lynch Law Firm's training program is standard, meaning it adheres to state and federal laws, and the remaining 20% is customized to the company in precisely the ways the judges want. Lynch said, "When organizations use non-customized, one-size-fits-all video, it will not be very effective, and judges are aware of that. The courts realize that generic training indicates a lack of intent to prevent harassment." She says, "Our discrimination and harassment prevention training course goes beyond covering the laws that govern anti-discrimination and anti-harassment. Our training strategy is designed to raise awareness, encourage positive behavior in the workplace, and support an environment that is diverse, inclusive, and free from harassment."
Previously Community Impact reported on the firm's investigation in the City of Austin.
To utilize the many resources at the Lynch Law Firm or to schedule an appointment with Natalie Lynch, visit www.lynchlf.com.