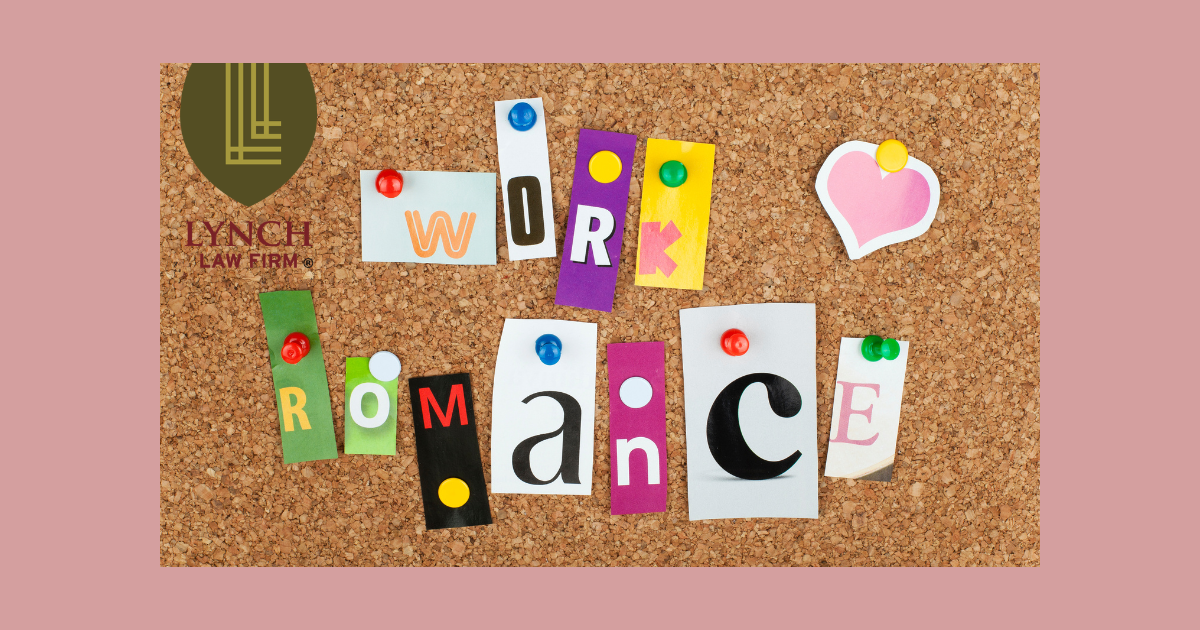 Love is in the Air
And With it Comes the Return of the Office Romance
---
Although most companies strongly discourage workplace romances, company policies pale compared to the power of love, lust, and physical attraction. Workplace dalliances are common occurrences among colleagues because the amount of time people spend together in the workplace allows them to get to know each other over time in a safe and professional environment.
Workplace Romance is on the Rise
According to surveys by the Society for Human Resources Management, in 2020, approximately 25% of workers surveyed revealed they were involved in a romantic relationship with a co-worker. In a subsequent survey conducted in 2022, that number increased significantly two years later when the number of employees involved in an office romance was calculated at 33%.
Employers Should Create a Workplace Romance Policy
After a few years of working remotely, many employers now require their employees to return to the workplace. When colleagues reconvene, the potential for employees to find love with a coworker begins to amplify. Many companies are responding to their workers return to the office by adopting formal workplace romance policies. But employers also ask how much control do they really have over their employees' private affairs. Although it may seem overreaching to try to exert limitations over someone's love life, employers must ensure a fair and equitable workplace. To protect themselves and their employees, employers must be aware of the potential pitfalls associated with office romances and take steps to mitigate the issues by drafting workplace dating policies.
What Employers Should Include in an Office Romance Policy
Workplace romance policies are drafted to provide clear guidelines for all employees regardless of gender, sexual orientation, or other protected characteristics. The policies are written to clearly outline the level of professionalism that employees must adhere to when they become romantically involved with one of their colleagues. The terms of the company policy define the limits of acceptable and unacceptable behaviors for couples involved in office liaisons. While it is not the company's intention to place undue restrictions on employees who enter into consensual relationships, the company guidelines are drawn to prevent potential problems in the workplace.
What Kinds of Problems are Created by Office Romances?
Although romantic liaisons in the workplace are relatively common, many employers are unprepared to deal with the kinds of problems an office romance can create:
When couples bring their problems into the workplace, their issues can cause discomfort among co-workers.

Office romances can create unnecessary gossip among the staff.

Office romances can negatively impact the workplace by causing a decrease in productivity.

Romantic relationships that begin in the workplace may also establish the foundation for allegations of sexual harassment, favoritism, or retaliation.
Issues that result from office romances can also lead to claims of:
· Sexual harassment
· A hostile workplace.
· Retaliation
· Favoritism when a manager is involved with a reporting employee.
The Lynch Law Firm Can Help You Create a Workplace Romance Policy
Companies have responsibilities that they must fulfill regarding romantic liaisons in the workplace. The Lynch Law Firm can help your organization develop an office romance policy that is specific and customized to your needs. Your company policy should include the following information:
The company policy will apply equally to all employees.

When a problem arises, the issue will be examined, and all aspects will be considered before decisions are made.

The company will treat everyone equally when taking disciplinary action.

The company prohibits retaliation.

The company and its employees will always follow the equal employment opportunity policy. For example, when there has been a violation of the romance policy, the Human Resources Department will not treat a transgender couple differently than a heterosexual or a homosexual couple when considering the issue and disciplinary action that will follow.
Can an Office Romance Policy Protect your Organization?
Formal policies aim to keep employees working together effectively and productively. When implementing an office romance policy, employers must ensure their employees understand that it is not their intention to exert control over their employees' personal lives. It is, however, the responsibility of any organization to provide a fair and comfortable work environment for staff members. To address office romances, employers should implement specific policies that address romantic liaisons in the workplace.
· Prohibit a supervisor and a subordinate from being involved in a romantic relationship.
· Require that romantic relationships be reported to Human Resources.
· Prohibit favoritism.
· Remind employees of the company's strictly enforced sexual harassment policy.
· Report any instances of sexual harassment to Human Resources.
· Apply to the entire staff, and written copies must be disseminated to all employees.
· Contain an acknowledgment form signed by each employee. The form can prove that each employee has read and understands the company policy regarding in-office romances.
Drafting an Office Romance Contract for the Parties Involved
Another way employers can mitigate the various risks associated with an office romance is to draft an "Office Romance Contract." The romance contract is an agreement between two co-workers that addresses their professional conduct. It also defines the level of professionalism the organization requires when the couple is in the work environment. The contract should be signed by both parties involved in the relationship, and it should clearly state that their relationship is consensual and does not constitute sexual harassment. The Lynch Law Firm can help your company draft an office romance contract specific to your organization's needs.
Protect Your Organization by Offering Sexual Harassment Training
After several years of working remotely, many employers ask their employees to return to the office. With all employees interacting again in the same environment, companies must once again consider the benefit of conducting regular harassment prevention training sessions. In addition to helping to create a safer and more respectful work environment, employers should note that harassment prevention training can also serve as a defense to a sexual harassment claim if an issue is filed with the court. Employers should conduct these prevention training sessions at least once annually. When your company performs this training, it is essential to ensure each staff member completes the course. To ensure employee compliance, employers or their human resource departments should collect a signed acknowledgment form from each employee to confirm they have completed the module.
The Lynch Law Firm's Harassment Prevention Training Modules
In 2023, the Lynch Law Firm expanded its services by offering a new training platform for employers. Consistent with EEOC guidelines, federal and state laws, and judicial expectations, the firm's customized training course was created to stop harassment and discrimination in the workplace. The firm's interactive courses are designed to protect companies while helping nurture a workplace culture where employees feel safe and respected. While the platform also includes ongoing micro-learnings to reinforce the education, what makes this training unique in the marketplace is that it is affordable, customized, and judicially acceptable. Call the Lynch Law Firm now for more information about our customized online harassment prevention training modules.
Our Training Modules are Customized to Your Needs
About 80 % of the Lynch Law Firm's training program is standard, meaning it adheres to state and federal laws, and the remaining 20% is customized to the company in precisely the ways the judges want. Lynch said, "When organizations use non-customized, one-size-fits-all video, it will not be very effective, and judges are aware of that. The courts realize that generic training indicates a lack of intent to prevent harassment. Our discrimination and harassment prevention training course goes beyond covering the laws that govern anti-discrimination and anti-harassment. Our training strategy is designed to raise awareness, encourage positive behavior in the workplace, and support an environment that is diverse, inclusive, and free from harassment."
Call the Lynch Law Firm for Help Now
Natalie Lynch is one of Austin's foremost labor and employment attorneys and the founding member of the Lynch Law Firm. She established the firm over ten years ago but has decades of experience in law. In addition to helping her clients resolve legal matters pertaining to employment law, Natalie and her team specialize in workplace investigations and work to promote human dignity in the work environment. The Lynch Law Firm can help your organization develop a workplace romance policy, a workplace romance agreement, and harassment prevention training modules.
The Lynch Law Firm Focuses on Prevention and Education
A significant portion of the Lynch Law Firm's practice is associated with prevention and education. Natalie Lynch said she likes having the opportunity to educate her clients because she can set high expectations and show employers why the legal requirements to spend money to ensure a healthy workplace are worth the cost. Natalie says, "Employers have a legal obligation to investigate workplace discrimination and harassment issues. Many organizations hire professional and credentialed investigators to help resolve these matters, establish a foundation for healthier workplaces, and avoid costly litigation." In addition to investigative work and helping clients work through conflicts in the workplace, the firm also provides services that include the creation of partner and employee agreements and building or reviewing company policies and procedures,
The Lynch Law Firm is Here to Address Your Legal Issue
Labor and employment matters arise in all types of businesses and industries. The Lynch Law Firm's team of attorneys is equipped with the resources, experience, and knowledge to help you resolve your legal matter. In addition to representing individuals and businesses in various labor and employment matters, we can also assist you in creating an office romance policy, an office romance agreement, or developing an employee handbook. The attorneys at the Lynch Law Firm can also help you build performance evaluation materials and draft enforceable employment contracts and legal agreements that address non-disclosure, non-competition, severance, and separation.
The Lynch Law Firm's Clients Include:
Individuals

Limited Liability Companies

Corporations

Limited partnerships

Sole proprietorships

Family businesses

Investors

Beneficiaries

Vendors

Suppliers

Consultants

Professionals

Government Entities
The Lynch Law Firm has an entire team of legal professionals to oversee its labor and employment clients. In addition to Natalie, the firm's founder and managing member, the firm also includes an associate attorney, Brian Levy, who handles employment litigation matters. Additional employment professionals at the firm include Dr. Lindsey Lee and Helen Petty. Dr. Lee works on adult learning, investigations, and culture projects, and Ms. Petty works with nonprofit organizations.
Schedule a Consultation with the Lynch Law Firm Now
If you are an employer working to resolve a labor and employment matter and would like to discuss your issue, call the Lynch Law Firm for help now. Protect yourself, your employees, and your business by contacting us at the Lynch Law Firm. Our lawyers can help you navigate the complexities of your legal issue from inception to resolution. Contact us, or call us at (512) 298-2346