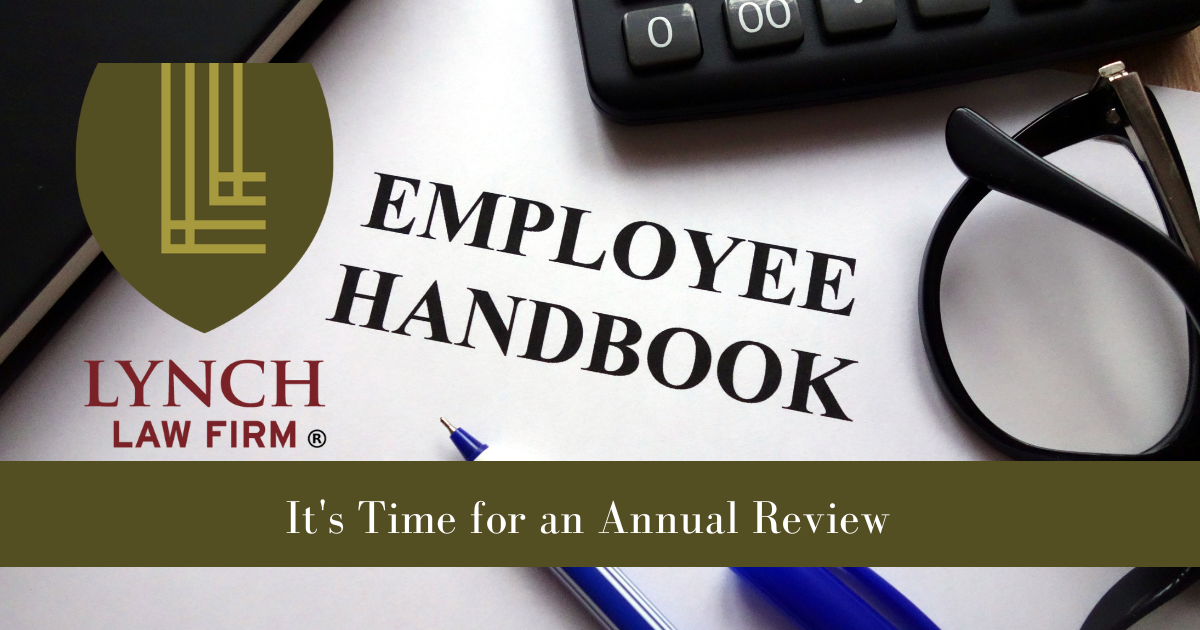 It's Time to Review Your Company's Employee Handbook
---
No matter how small, all companies should protect their interests by creating an employee handbook. In addition to clearly defining the organization's policies and procedures, this evolving document represents the company's mission, codes of conduct, and culture. While Texas employers have a legal obligation to comply with state and federal laws, the policies they enumerate in their employee handbooks inform workers of their legal rights and obligations. Every year, employers, along with their executive teams and human resources departments, should take the time to review their employee manual for accuracy and language that could give rise to legal claims.
The Benefits of Having an Employee Handbook
· It introduces employees to the company's culture, mission, and values.
· It defines the employer's expectations of the employees.
· It educates employees about what they can expect from the management and executive teams.
· It communicates company policies.
· It outlines company benefits.
· It can help to create a positive workplace culture.
· It ensures the company's compliance with state and federal laws.
· It can help employers defend themselves against employee claims.
Federal Employment Policies to Address in a Handbook
The United States Department of Labor oversees, administers, and enforces more than 180 federal laws. These laws govern the workplace activities for about 10 million workplaces and 150 million workers. The DOL policies cover critical worker rights, anti-discrimination, certain types of leave, and the company's sexual harassment policies. Whenever there is a change to the law, companies should update the employee handbook accordingly. Some of the most significant federal labor laws companies should address in the employee handbook include the following:
Equal Employment and Anti-Discrimination Policy

Family Medical Leave Act (FMLA) Policy (50 Employees)

Jury Duty Leave

Military Service Leave

Sexual Harassment Policy
Required Texas Employee Handbook Policies
While federal law supersedes state law, states are allowed to add their own rules, requirements, rights, and obligations on behalf of their citizens. Texas has additional employee handbook policies that include the following:
Crime Victim Leave

Voting Leave

Witness Duty and Court Appearance Leave
Optional Texas Employee Handbook Policies
Employers should also list additional policies in their employee handbooks that are specific to the organization. These may include the following policies:
Arbitration

At-Will Employment

Background Check

Business Expense

Conflict of Interest

Confidentiality and Trade Secrets

Cyber security and digital devices

Dress codes

Drug and Alcohol Abuse

Employee Benefits

Employee Classification

Employee Relationships

Exit Interview

Health and Safety

Holidays

Outside Employment

Overtime

Payment of Wages

Payroll Deductions

Performance Review

Progressive Discipline

Punctuality and Attendance

Resignation

Sexual Harassment

Sick Leave

Vacation/PTO

Workers' Compensation

Workplace Violence

Workweek and Work Schedules
Including a Brief History of the Company
Introduce the story of your company's journey to success in a few short paragraphs in an "About Us" section of the handbook. Describing the background of the founding members and how the organization got started can play an essential role in building trust and respect. Share how the organization was shaped and feature the most compelling highlights of your company's journey by showcasing your most significant achievements. This message to your employees can become the keystone of your brand and the inspiration your team needs to further the organization's success.
Adding a Signature Page to the Employee Handbook
Employees should also include a signature page, or an acknowledgment form, at the end of every employee handbook. The signed document will confirm that your new hire received, read, and understands the content contained in the handbook. In case of an employment conflict, the company's employee handbook will provide documentation of the organization's compliance. Asking the employee for their signature confirming that they have read the handbook encourages them to review the document thoroughly before signing the acknowledgment form. Collecting the signature page can be helpful in court proceedings in the event an employer must defend themselves against a wrongful termination claim.
Creating Your Employee Handbook
Businesses of all sizes can benefit from creating an employee handbook because this document is a valuable tool for defining company policies and outlining the local, state, and federal employment laws that apply to all employees. An employee handbook can also set the company's expectations for employers and employees and help create a positive workplace culture. Creating a handbook, however, can be a vast and much more extensive project than most employers realize. Fortunately, Natalie Lynch and her team at the Lynch Law firm have the skill and experience to help you build a practical employee handbook that is not only customized for your organization but one that will ensure you are complying with all local, state, and federal laws.
Schedule a Free Consultation Now
Labor and employment matters arise in all types of businesses and industries. The Lynch Law Firm's team of attorneys is equipped with the resources, experience, and knowledge to help you resolve your legal matter. In addition to representing individuals and businesses in various labor and employment disputes and providing harassment prevention training modules and leadership development tools, our attorneys can also assist you with the following:
· Development of training manuals,
· Employment contracts,
· Employee handbooks,
· Performance evaluation materials,
· Drafting legal agreements to address non-disclosure, non-competition, severance, and separation issues.
The Lynch Law Firm's Clients Include:
Individuals

Limited Liability Companies

Corporations

Limited partnerships

Sole proprietorships

Family businesses

Investors

Beneficiaries

Vendors

Suppliers

Consultants

Professionals

Government Entities
If you are an employer seeking to resolve a labor and employment issue, protect yourself, your employees, and your business by contacting us at the Lynch Law Firm. Our lawyers can help you navigate the complexities of your legal matter from inception to resolution. If you have questions, contact us for help now. Please email us or call 512 298 2346