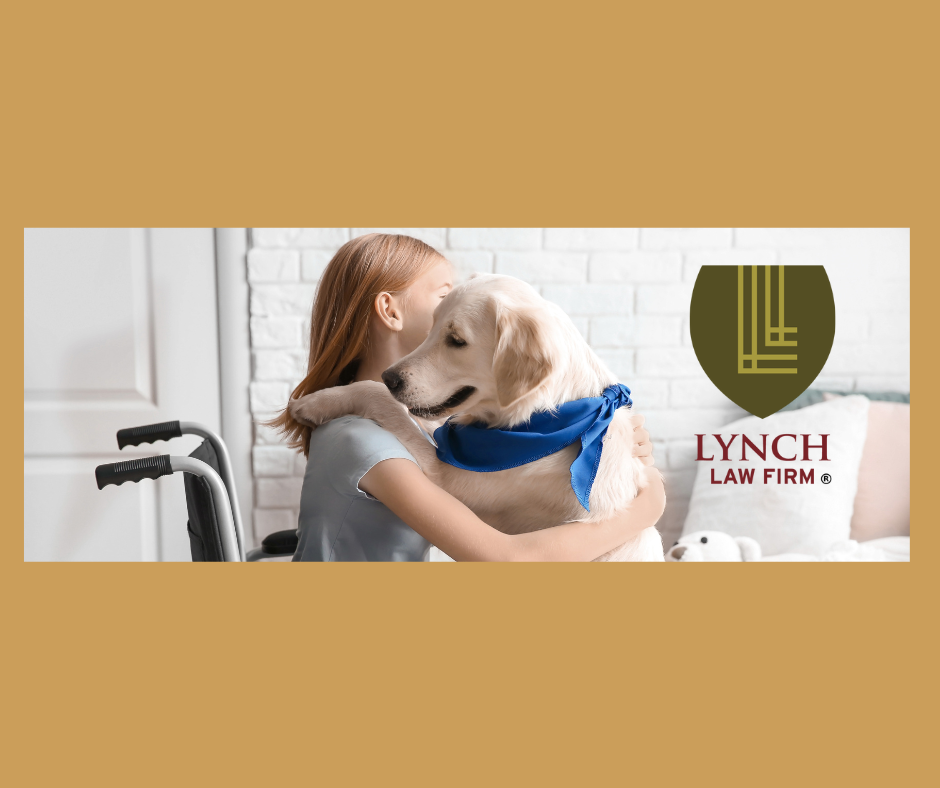 Can a Disabled Person Bring Their Service Animal into a Healthcare Facility?
---
The Americans with Disabilities Act (ADA) governs the use of service dogs in public places. But many people ask if the same ADA rules apply when a disabled person who is being assisted by a service animal seeks to gain access to a healthcare facility. 1
Service Animals are Allowed in Healthcare Facilities
The ADA allows people with disabilities who use service animals equal access to places that include restaurants, hotels, theaters, retail stores, government buildings, AND hospitals and healthcare facilities. Not only must these entities allow service animals, but the ADA also requires that these organizations modify their practices to accommodate these animals when necessary. When accompanying their owners in healthcare facilities, service animals are allowed access to doctor's offices, patient rooms, cafeterias, gift shops, and other areas within the facility if their presence does not pose a threat or danger to standard medical practices and does not impede the operations or essential services of the organization. 2
What If a Healthcare Organization Has a Strict "No Pets" Policy?
While most healthcare facilities adhere to a "no pets" policy due to the requirements necessary to maintain a sterile environment, they are so under a legal obligation to follow the rules of the ADA. The ADA allows disabled patients and visitors to be accompanied by their service animals when entering patient rooms and anywhere else within the facility where the public and other patients are permitted access. But the agency also provides several instances where service animals may be excluded from certain areas within the hospital's facilities. For example, service animals are not permitted to enter sterile environments, such as operating rooms or burn units. Service animals can also be banned from certain areas within the hospital if their presence jeopardizes the safe operation of public accommodations.
Can Service Animals Accompany Their Owners in Ambulances?
The ADA allows service animals to accompany their owners in emergency transport vehicles unless the animal's presence would interfere with the medical technician's ability to treat the patient. While service animals are allowed in ambulances, the emergency crew may deny the dog access if the space in the space within the vehicle is limited or if the technician is concerned that the animal would impede effective treatment. When these circumstances apply, the emergency staff should seek to make arrangements to have the animal transported to the hospital. First responders should be aware that separating a disabled person from their service animal should be done only when necessary and if separation is required, the animal should be reconnected with the patient as soon as possible.
Healthcare Facilities
Healthcare facilities cannot exclude a service animal from accompanying the disabled patient because the facility believes that a member of their medical team can provide similar services. The facility must make every effort to allow the service animal to remain with the patient. Although there are circumstances where the healthcare facility may move the service animal to a kennel or boarding facility while the patient is being treated, the organization must first provide the patient with an opportunity to make alternate arrangements for the care and handling of their animal. When patient is unable to care for their service animal during their stay, the hospital must first allow the patient to designate a friend or family member who can attend to the animals needs.
What is the ADA's Definition of a Service Animal?
The ADA defines a service animal is "An animal that is individually trained to perform specific tasks for the benefit of a disabled individual." The tasks the service animal has been trained to do must be directly related to the individual's disability. For example, a deaf or hard-of-hearing person may have an animal trained to alert them to certain sounds. The animal could be taught, for example, to alert the handler to the sirens of approaching emergency vehicles and to safely guide their handler out of harm's way.
Emotional Support Animals Are NOT Service Animals
The ADA makes a distinction between service animals and emotional support animals and treats them differently. Unlike service animals, emotional support animals that provide companionship, therapy, or comfort animals are not explicitly trained, they are not considered to be service animals under the terms of the ADA. The agency does not offer individuals with emotional support animals the same right of access to public places that it allows those who use service animals. Under the terms of the ADA, while public places must permit a service animal to accompany their owners, these entities can refuse to admit emotional support animals. While many people with and without disabilities derive considerable comfort and emotional support from their furry companions, it is essential to note that emotional support animals have not received the specialize training to perform specific tasks directly related to their owner's disability.
Common Types of Service Animals
While only dogs are generally considered service animals, under the terms of the ADA, there are limited circumstances where miniature horses also meet the criteria. A miniature horse, just like a dog, is defined as a service animal when it has been taught to perform work or a specific task for the benefit of an individual with mobility impairments or mental disabilities. In addition to being easily trained, the benefits of a miniature horse include the equine's longevity and its ability to support those whose disability impairs their balance and mobility.
What are Psychiatric Service Animals
"Psychiatric service animals" are service animals that assist people with psychiatric disabilities. These kinds of disabilities can include severe depression, anxiety disorders, and
post-traumatic stress disorder (PTSD). Specific examples of tasks that a psychiatric service dog may perform for the disabled owner include:
Providing safety checks for persons suffering from PTSD.

Keeping disabled persons away from danger, such as walking in the path of oncoming vehicles

Preventing or interrupting certain destructive behaviors, such as self-harm.
Service Animal Handlers Do Not Require Any Documentation
A service animal's handler is not required to provide documentation or registration to establish that their animal is a "service animal." The healthcare facility may only ask the handler two specific questions:
1. Is this service animal required due to a disability?
2. What task has your service animal been trained to perform?
Does Your Healthcare Facility Have a Service Animal Policy?
The Lynch Law Firm currently offers healthcare facilities a FREE review of their service animal policy. This offer is for a brief time only! Call us to set up your appointment now.
Consult With the Lynch Law Firm for Free Now
Service animals are essential to the health and well-being of their owners, and employers should include service animal policies in their employee handbooks. If you are a healthcare employer who would like the attorneys at the Lynch Law Firm to review your company's service animal policy for free, please call us at 512 298 2346. Or call us about drafting a new service animal policy for your organization now. You could also start the process with us by letting us know here.
The Lynch Law Firm Will Navigate Your Legal Matter from Inception to Resolution
If you are an employer with labor and employment law issue, the Lynch Law Firm has the resources to help you find a resolution. In addition to defending employers against employees' claims, the attorneys at the Lynch Law Firm team can also assist you in developing the following:
● Workplace Investigations
● Harassment Prevention Training Modules
● Employee Manuals
● Performance Evaluation Materials
● Employment Contracts
● Legal Agreements for non-disclosure, non-compete, and severance.
About Natalie Lynch: Founding Attorney
Natalie R. Lynch, a business and employment law attorney in Austin, Texas, has demonstrated expertise in workplace investigations, employment law, and entity formations. Credentialed through the Association of Workplace Investigators (AWI), Natalie is the only consulting and credentialed expert in Central Texas who conducts investigations into allegations of harassment, discrimination, and hostile work environment. Having lived abroad in Ghana and Spain, Natalie brings unique perspectives to help organizations achieve business nationally and internationally. As a credentialed dispute resolution mediator, she routinely collaborates with general counsel, internal and external counsel, employment litigators, employment generalists, and senior human resources professionals.
Natalie is also the former Chair of the Austin Bar Association's Labor and Employment Section. This organization serves in leadership roles for the Texas State Bar Association, including the International Bar Section and the Animal Law Section.
"Always use the best practices to achieve the best results" is one of Natalie's mottos. Her extensive business background and purposeful and solution focused approach enable her to excel at business formation, transactional matters, employment law, workplace discrimination matters, contracts, and employment litigation avoidance. She began investigative training in 2006 under the tutelage and guidance of forensic psychologists and industry royalty like Elizabeth Imhoff Mabey and Eugene Ferraro. Today, she uses that expertise to conduct workplace. investigations and perform related services. As a credentialed AWI investigator, Natalie has extensive training in interviewing techniques and unique and beneficial skill set in the legal field. Natalie insists that each investigation represents the standards of quality and litigation avoidance on which she built the Lynch Law Firm.
As a business owner with an undergraduate degree in international studies from Texas A&M University and a J.D. from South Texas College of Law, Natalie subsequently studied at the University of Denver. She is currently licensed to practice law in Texas, Colorado and Wyoming and holds Women-Owned Business (WBE), Minority-Owned
Business (MBE) and Historically Under-Utilized Business (HUB) certifications.
Another one of Natalie's passions is animal rights. She firmly believes that animals should be treated with respect and contributes her time and resources to improving the welfare of animals with the Texas HumaneLegislative Network. She also enjoys rallying behind her son's athletic endeavors, interacting with her two large and rambunctious dogs, and tending the garden she keeps behind her home.
About Brian Levy: Litigation Attorney
Brian Levy is a labor and employment lawyer focusing his legal practice on litigation. His experience includes representing employees and employers in single, multi-plaintiff, and
collective action disputes before state and federal trial courts, appellate courts, and administrative agencies. Always looking out for his clients, Brian seeks to avoid costly court cases and often employs various alternative dispute resolution methods, including mediation and arbitration. Brian also represents employees in cases regarding employment discrimination, wrongful discharge, breach of contract, non-compete agreements, and wage and hour disputes. Brian strives to balance the litigation process and cost to achieve the best results for his clients.
Before joining the Lynch Law Firm, Brian practiced labor and employment law with a Houston-based firm with a statewide practice. Based in Houston and Austin, he managed cases throughout Texas. He practiced in trial courts, handled federal and state appeals, and wrote briefs for the United States Court of Appeals and Texas's Supreme Court.
A Houston native, Brian received his Juris Doctorate from the University of Houston Law Center and attended the University of Texas for his undergraduate degree. When he is not working, Brian enjoys hiking, and the culinary arts. He enjoys food—cooking and eating it. To support his hobbies, Brian keeps a vegetable garden and enjoys including fresh produce in his meals. Brian also loves animals, and is especially fond of his French Bulldog, Ella.
Resources
1. Access to Public Places and the ADA | ADA Assistance Dog Registry
2. ADA Requirements: Service Animals | ADA.gov